The Punjab Information Technology Board (PITB) built the ePay Punjab App, which has so far been quite successful thanks to the confidence that many users have placed in it by transacting more than Rs 500 million in the app's first 100 days of availability.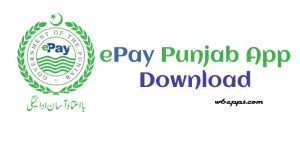 The app was released in October 2019 to allow individuals to pay their taxes and levies online without getting into awkward or annoying situations, such as venturing outside of their homes in the rain or in extremely cold or icy conditions, or waiting in long lines to pay their dues, etc.
The first digital payment aggregator in Pakistan for business-to-government (B2G) and public-to-government (P2G) transactions is called ePay Punjab.
Dues can be paid through the following 4 payment methods using ePay Punjab.
Mobile Banking 
ATM
Over the Counter
Internet Banking
Under the direction and advice of Punjab's Finance Department, The Punjab IT Board (PITB) created the solution. It is interconnected with the State Bank of Pakistan (SBP) and 1-link at the backend allowing connectivity throughout Pakistan's complete banking network.
Process and Channels for Payment
A person will use the e-Pay Punjab application or website to generate a 17-digit PSID number in order to pay tax obligations. The residents might then use the PSID number, which is distinct for each transaction, to pay their tax obligations on the aforementioned four payment channels, namely Mobile Banking, Internet Banking, ATM, or OTC.
Currently, e-Pay Punjab accepts payments for the following tax receipts:
Excise and taxes
Vehicle Token Tax
Professional Tax
Property Tax
Vehicle Transfer
Motor Vehicle Registration
Office of Revenue (BOR)
Fard charge
e Stamping
Mutation fee
Authority for Punjab Revenue (PRA)
Punjab Infrastructural Development Cess
Sales Tax on Services
Industries
Cost of Business Registration
Punjab Transport Department
Features ePay Punjab App
Owners of motor vehicles must pay an annual tax known as the token tax.
Motor Car Registration: A one-time cost incurred at the time of buying a new vehicle.
Vehicle Transfer: A fee is paid when a vehicle is transferred to a new owner.
Property taxes are yearly levies paid by landowners in metropolitan areas.
Professional Tax: Annual taxes paid by a working professional for his line of activity.
Cotton Fee: Fee paid when raw cotton is sent to a facility for ginning.
Payment of stamp duties on judicial, non-judicial, CVT, registration, and comparison fees by electronic stamping.
The fee paid by the buyer at the time of the property's transfer to a new owner.
The fee paid by the property owner for the issuance of a document proving their ownership of the property.
Sales Tax on Services: Punjabi businesses that provide services are subject to taxes.
Tax on the transportation of products produced, consumed, imported into, or exported from the Punjab that supports infrastructure development.
Fee for registering a business that is paid by the proprietor.
Fees paid by commercial vehicle owners for the allocation of certain routes for inter- and intra-city transport are known as route permits.
The penalty for breaking traffic laws is called a "traffic challan."
How to Download EPay Punjab App online
You can use this application on Android and also on iPhone, To download this application you have to click on the download button below for your phone type.